Remembering Madame Jeanette
(Music by Alan Murray, Words by Edward Lockton)
For all those who, like myself, live far away from the next shop with sheet music or records ...
Visit the special page about our beloved Madame Jeanette, on Dartmouth College's website.
Or watch and listen to a 1971 recording of the Calhoun Highschool Choir on Youtube.
(Thank you, George, for the link!)
Another recording on Youtube, this one a 1969 recording of the Sam Barlow HS Concert Choir
Or download a recording (mp3) of the early 60s of the Dartmouth Glee Club, as I understand.
If there are other recordings online, I'd love to link to them, too .... pls. drop me a line (with a clear subject line, pls.).
And to sing along, I have scanned my own sheet music (SATB). You can download it here (4 pages, 703 kB).
(Sorry that it contains some annotations).
Again, if you have a better scan, or another arrangement (e.g. male choir) ....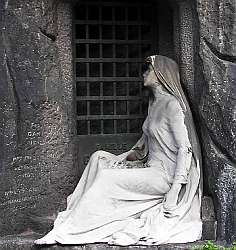 in Père Lachaise, Paris
Lyrics
Madame Jeanette, when the sun goes down,
Sits at her door in the rush of the town;
Waiting for someone each close of the day,
Someone who fell at St. Pierre, they say.

Madame Jeanette, when the stars shine bright,
Sits at her window and looks through the night;
List'ning for someone to pass down the way,
For someone who sleeps at St. Pierre, they say.

Madame Jeanette, she will wait there, I know,
Till her eyes have grown dim and her hair's white as snow;
Wait there and watch there, till one of these days
They take her to slumber in Père Lachaise,
In Père Lachaise.
- . -
Sites where you can Purchase Recordings containing "Madame Jeanette"
Amabile Choirs
The Elisabethans
And some more Links
A nice article about "that" song in the New York Times.

An article on page one of a college newspaper of 1949 (!)
reports under the headline "Choir Album To Go On Sale This Week"
about an album that contains also our Madame.

Another similar article again from 1949, (on page 3, "Alumni Present Memorial Plaque Armistice Day")
mentions the song in a concert to remember former students and alumni
of both World War I and World War II from the Northwest School.